Serving Metropolitan Toronto, Pickering, Markham, Thornhill

Bathroom Renovations
A new bathroom is a great way to add value to your home, as well as adding a touch of luxury to your lifestyle.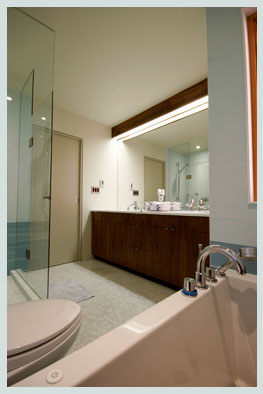 Today's bathrooms reflect the needs, taste and style of their owners. Because this room is so personal, and used so frequently, a good bathroom must be both stylish and highly functional. It must be carefully planned to accommodate structural considerations (soaker tubs filled with water are heavy!), and aesthetics.

When planning your dream bathroom, consider the following elements:
Do you want a separate water closet?
What kind of shower do you want? Massage showers with multiple heads are popular, as are steam showers and rain showers.
Do you want an oversized tub? Built-in or stand alone? Traditional or modern?
Do you want a whirlpool or Jacuzzi?
Do you want a fireplace or reading lounge in your bathroom? These spa-style features are becoming increasingly popular.
What kind of flooring do you want? Tile? Slate? Marble? Is it heated? And what about a heated towel bar?
How much storage do you need? Built-in, or a stand-alone piece of furniture?
Are the sinks of your dreams pedestal or part of a vanity? Are they vessel-style or undermount?
Do you want a television or stereo system in your bathroom?
It's your dream bathroom, and it's all up to you. Check out our portfolio for examples of how some of our clients have created their dream bathrooms. And then, contact Northern Edge Construction Services to start making your dream a reality.
Your vision. Successfully realized.