Serving Metropolitan Toronto, Pickering, Markham, Thornhill

Kitchen Renovations

A new kitchen is the number one renovation dream for most people, and the number one way to add value to your home.

Today's kitchen is much, much more than just a place to cook – it's the command central of the modern home, a focal point of everyday life and entertaining.

There are literally hundreds of different styles to choose from today, from rustic to ultra modern. Decorating magazines can be a good starting point and provide some guidance as to the style, and Northern Edge can provide invaluable guidance as you choose the fixtures, features and finishes for your dream kitchen.

As you begin the process, you might consider the following: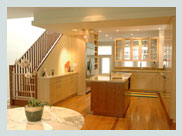 Cabinetry. Custom cabinets are wonderful, but if budget is an issue, stock cabinets can be made to look custom with a little ingenuity. All matching is out – many new kitchens will feature cabinets in two or more colours/finishes, and open shelves instead of uppers is a popular and cost-effective option.
Appliances. The sky's the limit for appliances these days! Stainless steel is practically de rigueur, but European Aga-style appliances have their following too. The newer drawer-style refrigerators and dishwashers are slick and very handy, but can be expensive. A built-in wine storage fridge or cappuccino machine adds a touch of luxury.


Sinks. Believe it or not, sinks are all the rage these days. The traditional stainless steel dual sink is making way for a wide range of sinks in various materials like iron and copper. Consider a second prep sink on the island, or a pot filler behind the cook top.
Countertop materials. These days, most homeowners choose natural products like quartz, marble and granite. Northern Edge can provide valuable advice regarding the durability of the various products on the market today.
Nifty features. These might include a built-in water purifier or hot water dispenser, a trash compactor or a flexible recycling centre.
It's your dream kitchen, and it's all up to you. Check out our portfolio for examples of how some of our clients have created their dream kitchen. And then, contact Northern Edge Construction Services to start making your dream a reality.
Your vision. Successfully realized.